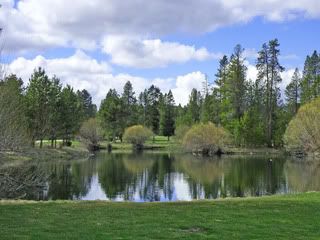 Sunriver home sales saw quite a bit of activity during Spring break. A total of 31 homes went Pending sale or Sold. Of that number, 2 sales were Sunriver Fractional properties, both selling in The Ridge. There were a total of 5 Condos that went Pending or Sold. Finally a total of 24 single-family, Sunriver homes received offers or closed sale during the month of March 2011.
Leading the pack with most Sunriver sales was the neighborhood of Fairway Crest Village, with 3 Pending sales and 3 sold homes. In second place was Mountain Village East with 4 sold or pending sales. Tying for third place was Forest Park and Fairway Point Village with 3 homes each.
When you consider that there are a total of 259 Sunriver properties currently for sale that are either Fractionals, Condos, Townhomes, & Single Family homes, that means a total of nearly 12% of Sunriver's inventory moved in the month of March.
Traditionally, many homeowners will take their homes off the market in late Fall and bring them back on the market in the Spring. We should see the Sunriver real estate inventory begin to grow over the next few months and I am hopeful we'll see Sunriver sales moving at a brisk pace.
When you consider the neighboring city of Bend had phenomenal home sale growth in 2010 and a downright amazing 2011 first quarter of home sales , that will only help Sunrivers marketplace.
For those of you who live in the greater Portland area and have been toying with the idea of buying a Sunriver home, I know your local market has been really tough. Keep in mind that our marketplace in Central Oregon has already been through, in my opinion, the roughest depreciation cycle and has signs of stabilization.
If you've been thinking about buying a vacation home in Sunriver, you may very well be at a perfect point to enter the marketplace.
Allow me to send you a customized list of properties that likely have the best location, amenities, and rental potential in Sunriver. The market studies you will receive from me will give you a clear understanding of exactly what's going on in Sunriver and where you stand to make the best investment in a vacation home that you've been waiting for the right time to buy.
Once I receive an Email from you, I'll put together a report that is specialized just for you. This is my full time profession, and I love helping my clients get great deals that bring them a lot of enjoyment during their time off, and a great long term investment.