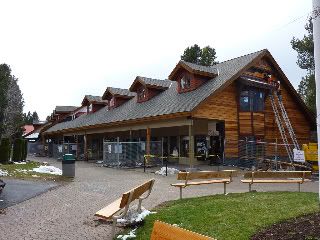 If you've wandered around the Sunriver Village Mall lately, you've been met with the sounds of hammers and saws and the sights of grated fencing and construction workers who are busy as bees going up and down ladders and moving building materials all over the place.
As I walked around the Sunriver Village Mall, I couldn't help but think that the new face lift that is under way marks the turning point of a new era in Sunriver living. Sunriver has been taking a long hard look at what it is, and where it is going so as to face the many challenges ahead in this struggling economic landscape.
Sunriver has always represented a breath of fresh air. It is a place where people go to find refuge and get back to taking time out for themselves, family, and friends. With the strains of an economic downturn, the Sunriver community appears to be keeping their focus on the quality of life. Whether it's recreation, entertainment, education, or health, Sunriver is making sure there are opportunities to both enrich and enjoy life.
That spirit is what will forge the way for Sunriver to not only survive the present economic landscape, but thrive as it moves forward into the second decade of the 21st century. The homeowners association is working hard to build a larger full-time living community by focusing on projects to improve services such as their efforts to woo Google in providing Fiber Optic connectivity which would allow for business speed internet transmissions to be performed in Sunriver. Also when you look at future Sunriver Projects such as the Sunriver Aquatic & Amphitheater Center, these kinds of smart choices are only going to add to the appeal and popularity of Sunriver.
I see good things ahead for the Sunriver community and if you've been toying with the idea of staking an investment in the community, it would be my pleasure to introduce you to some great Sunriver homes that are currently for sale at bargain basement prices. You can call me at (541) 390-7878 or email me with what you're looking for and get a closer look at the lifestyle that could enrich you and your families life.