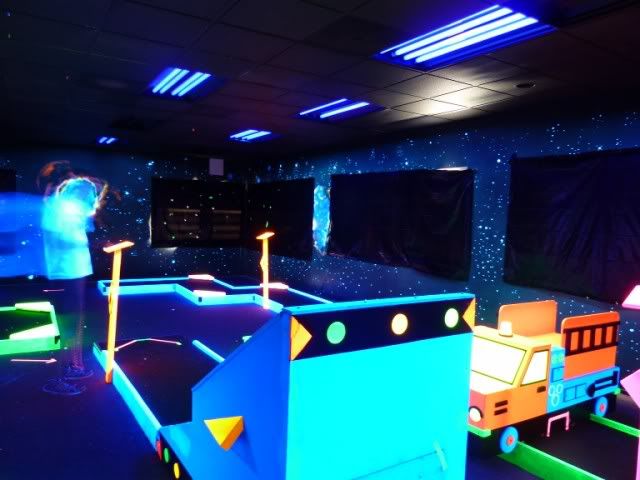 OK, we all know that if there is one sport that defines Sunriver it would have to be Golf. Golf helped put Sunriver on the map and make it one of the Pacific Northwest's most beloved getaways. But let's face it, Sunriver gets all four seasons and if you've every tried to play golf on a miserable day…well, it's miserable!
To make matters worse, if you have a family and some of that family consists of younger children, you also know that 18 holes of Golf is not what the kids find fun to do. So what's a person with a family to do? Enter Galaxy Greens, Sunriver's answer to miniature golf. With 14 indoor holes to play it will never be too cold, wet, or snowy to play with friends and family.
Galaxy Greens puts you in the middle of a celestial surrounding that is quite cool and unexpected. With it's black lights, neon holes and otherworldly atmosphere, you can't help but have a little fun. At the very least, it can be a welcome diversion for the kids while you steal away for a round of real Golf. The charge to play is $7.00 and the location is right above Goody's, Sunriver's most beloved chocolate, candy, and ice cream store.
The next time your tribe is looking for a fun diversion in Sunriver, why not give it a shot. (no pun intended)